About the Fair Bishops' Gravestones
Contributed by Peter Chisholm of Canada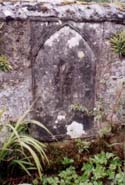 These are photographs of what I am told are the gravestones of my fourth great grand uncle, Bishop John Chisholm, (born in February of 1752 and died on July 8, 1814) and his brother, Bishop Æneas Chisholm (died 1818). As I understand it, they are buried at Killchiaran on the island of Lismore, Scotland.

Bishop John Chisholm was the Vicar-Apostolic of the Highland District. He is mentioned at pp. 95 and 159 of Alexander MacKenzie's book entitled, History of the Chisholms. Bishop Æneas Chisholm is mentioned at pp. 126 and 159.

The Fair Bishops (na h-Easbuigean Bana) are the sons of Valentine Chisholm of Inchully and Janet Macdonell.
Related Links