Newsletter
The last Canadian branch newsletter is available for download by clicking here (updated Spring, 2017).
(Trouble viewing? Click the "Get Adobe Reader" image in the sidebar)
---
2015 International Gathering of the Clans in Nova Scotia 2015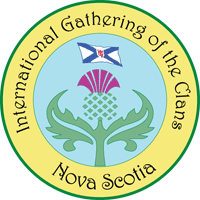 Canada again hosted the International Gathering of the Clans in 2015.

Events ran from July 1st beginning with a flag raising ceremony at the Pugwash Gathering of the Clans. The Official Opening was held in Halifax on July 3rd at the Grand Parade in Halifax. The Royal Nova Scotia International Tattoo in Nova Scotia ran during the first week with acts from all over the world.
Events were held in the Halifax area during the first weekend before moving to the Antigonish Highland Games the following week. From there, the IGC headed to Pictou County for the New Glasgow Festival of the Tartans. The third week of July was the final week for IGC 2015 and was packed with events leading to the formal closing ceremonies in Yarmouth.
Nova Scotia is known for its many musical entertainers, Celtic singers, and world-class fiddlers. Along with its scenic coastal villages , sandy beaches, lobster in all its delicious forms, and its historical settlements of not only Scots but Irish, Germans, English, Ulster Scots, Acadian French, Aboriginal people and many other Multi-cultural groups make this seaside province a place to experience the best of culture and cuisine is a compact and accessible package.
The Ship Hector brought some of the first Scottish Settlers to our shores and a replica rides the waves in the Historical town of Pictou inviting you to come aboard and reach back through time.
Historic villages are found throughout our province - the Highland Village at Iona, Sherbrook Village a working village and Ross Farm to name but a few of the many interesting places to visit.
Fort Anne, Port Royal, the Halifax Citadel, and the Fortress of Louisbourg are but a few more places to capture your imagination. Drummers, Pipers, historical re-enactments were all here to catch your fancy. We are home to the world famous Royal Gaelic College.
Come learn your ancestral language in beautiful Cape Breton and join in the "Gathering" on New Scotland's shores.
From Routes to Roots in Nova Scotia 2015 -
watch out for more announcements
---
Resources
---
Canada Branch Officers
President/Branch Council Representative: David Holmes, Calgary, AB | Email
Vice-President: George Pyron, Toronto, ON
Treasurer: David Holmes (acting)
Secretary: vacant
Membership Administrator: David Holmes (acting)
Directors at Large: Sandy Chisholm, Hawkesbury, ON and Marlene Cheng, Victoria, BC
Past President: Roderick Chisholm, Antigonish, NS