Current News
Do you recognise any of these family members?
Diane Whitney of Houston TX has posted a family wedding photograph from Brighton, England dated 1950. (click on image to enlarge)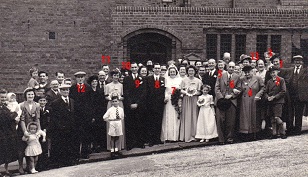 Some of the family members are as follows:
1 Grace Winifred Guy
2 Thomas Guy her son
3 Sheila Town (daughter on my Uncle Fred 11 and Aunty May 13)
4 Rosetta Town (formerly Packham née Collins)
5 Aunt Nellie Town wife of Arthur Chisholm
6 Arthur Chisholm (husband of Nellie)
7 Ruby Ann Barber bride
8 Dennis Trangmar groom (son of my half aunt Florence May Packham)
9 Uncle Albert John Town
10 Aunt Doris Mabel Town (née Nevatt)
11 Uncle Frederick Charles Town
12 Grandfather Frederick Arthur Town (the guy to left of twelve in similar hat I bet this was his brother George Henry Town)
13 Aunt May Town (wife of frederick Charles Town)


If you recognise any of the guests please contact Diane.
---
Chisholms Out and About
A review of some of the many Chisholm events is available here.
---
Upcoming events in New York
The American-Scottish Foundation announces several upcoming events in NYC in the months ahead.


See the full list of upcoming events here.



---
The Chisholm Colonial Tartan
The US Branch is proud to announce the official approval of the new Chisholm Colonial Tartan!
Kat Moore (Lenexa, Kansas, USA) designed the tartan, working with Duncan Chisholm in Inverness, who was instrumental in getting this over the approval hurdles (Thank you Duncan!).

From Kat:
I am pleased to announce the arrival and registration of Chisholm Colonial Tartan. The category of 'Clan Tartan' is what this new design is registered as. At our Clan Gathering in Canada this past August 2008, our Chief Hamish Chisholm of Chisholm viewed the new design and approved it officially! Duncan Chisholm of Inverness, Scotland has been extremely good about having the initial cloth woven, doing all the important paperwork and other labors as well, that were required to make this project a reality.

I wanted to create a tartan that honored all those Chisholms who left Scotland to start a new life in the various 'Colonies' around the world. My original inspiration for this project came from the desire to honor my ancestor, James Chism of Virginia (1657- 1698). He was one of the many first generation American born Scots of our Clan. I am of the twelfth generation of this American-Scots line.

The colors that were chosen for the new tartan have specific significance. The following is the rationale for my color choices:
In order to begin a new life in distant lands, ocean crossings had to be made for most of our families. The blues in the tartan are representative of the oceans.
The brown color literally represents the earth of the lands that were colonized.
The Clan Chisholm badge is the Fern. The green in the tartan represents our ties to our clan and to Scotland.
The blood red in the tartan represents the blood that all Chisholms, worldwide, share by birth and heritage.
It is my fervent hope that Chisholms of all spellings and nationalities will find this tartan pleasing. I am proud to present Chisholm Colonial as my gift to Chisholms everywhere!
---
---