Current News
Pikes Peak Celtic Fest 2018
This year's Celtic Fest wlll take place June 15th to 17th in Colorado
---
Upcoming events in New York and elsewhere in the United States
The American-Scottish Foundation announces several upcoming events in NYC. See the full list of upcoming events here.



---
Chisholm Challenge Coin and Chisholm Patch
(Click on images to enlarge)
New items added to the novelties section are - a Chisholm Challenge coin and Chisholm Patch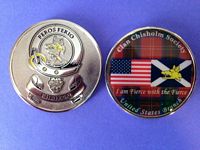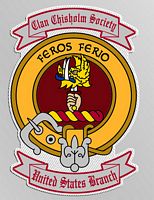 The price is $9.00 for the coin and $6.00 for the patch.
If you are interested please contact Ray Chisholm Jones or Gene Chisholm Jones
---
Highland Games News
Tacoma Highland Games, Graham, WA, 2016
Gordon Chisholm and family were the Clan Ambassadors at this event.
Martin and Erin Chisholm by the Chisholm Standard with 97 year old Frances Chisholm in the background.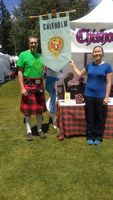 ---
Skagit Valley Highland Games Mt Vernon, WA, July 9-10, 2016
Gordon Chisholm also attended these Games and sent some great pictures.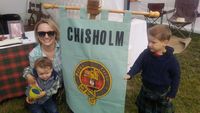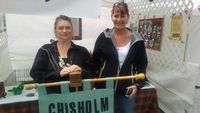 ---
Pacifc North West Games, Enumclaw, WA, July 30-31, 2016
Bill and Sherry Chisholm were the event ambassadors at this event.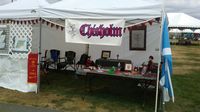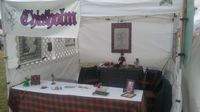 ---
Rhode Island Scottish Highland Festival, Richmond, RI, June 11 2016
Gene and Ray Chisholm Jones were the Clan Ambassadors at this event.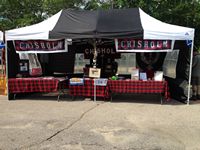 ---
Garrett County Celtic Festival, Friendsville, MD, 2016
Amy Howser attended as a first time Ambassador - she did a great job representing the Clan with her family.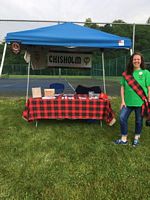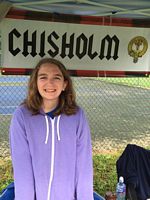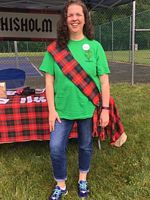 ---
Out and About - winter 2016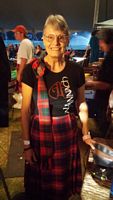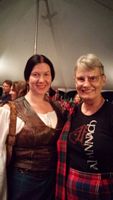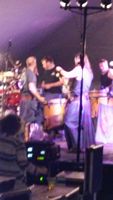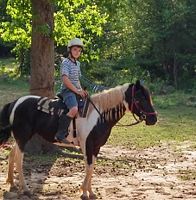 ---
New Hampshire Highland Games and Festival, Lincoln, NH, September 18-20, 2015
Val Chisholm Perry was there as Chisholm Ambassador.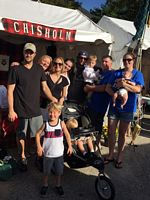 ---
Longs Peak Highland Festival 2015, Estes Park, CO, September 12th, 2015
Kat Chisholm Moore, Chisholm Ambassador at the 39th Annual Festival and a message from kat, Tara, Jon and Gayle
(Click to enlarge)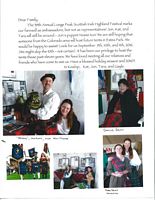 ---
Highland Games and Fair MN, July 18 2015
Jack Chisholm, Minnesota ambassador attends the Highland Games and Fair.
On Friday night a storm hit the Scottish Fair hard and many booths were completely destroyed.
Clan Gordon had a double space that blew away with artifacts they had spent years gathering. Clans Donald, McDougal and Crawford plus many others lost their booths - some went out and bought new ones, others were invited to share.
Colin and I saw ours bad and crumpled - it looked hopeless. Other clans came over and together we were lucky to salvage it and get it up to get us through the Fair - but it is shot - first and last time used.
Two to three hours after the Scottish Fair opened, a person who wouldn't know better walking down the clan rows, would not have known anything had happened. The clans banded to help each other to get up and running - then we all fought the heat.
Minnesota Scots have always took bad weather situations at the Scottish Fairs and turned the into something good.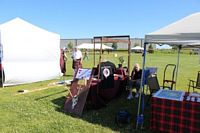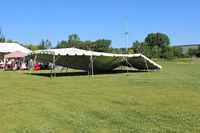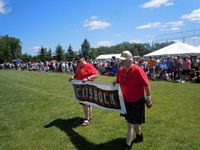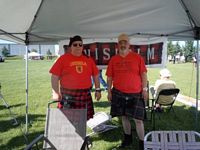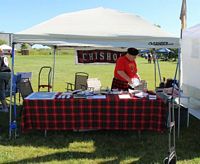 ---
Rhode Island Scottish Highland Fair, Richard, RI, June 13th 2015
Ray and Gene Chisholm Jones were there as ambassadors.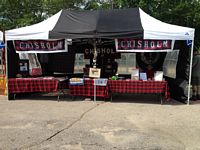 ---
Scottish Christmas Parade in Old Town Alexandria, VA on December 6, 2014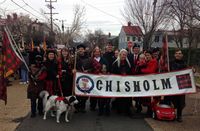 ---
New Hampshire Highland Games and Festival, Loon Mountain, Lincoln, September 19-22, 2014
Val Chisholm Perry was there as Chisholm Ambassador.
U.S.Branch President Gene Chisholm Jones and Branch Treasurer Raymond Chisholm Jones were also present.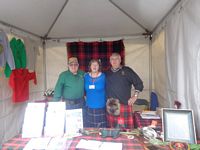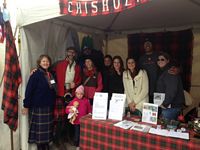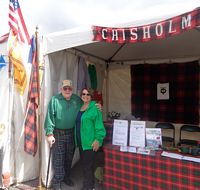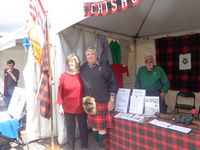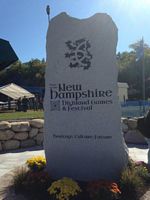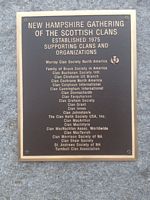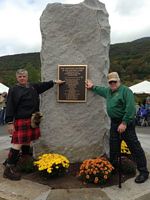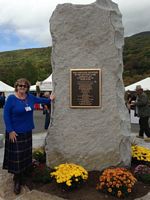 ---
Minnesota Scottish Fair and Highland Games, July 12, 2014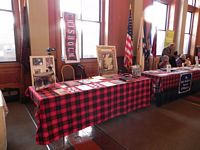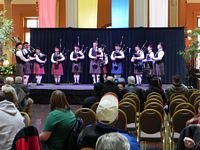 ---
Scottish Ramble, Landmark Center, St.Paul, February 16, 2014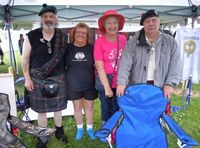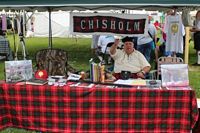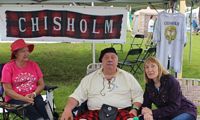 ---
The Chisholm Colonial Tartan
The US Branch is proud to announce the official approval of the new Chisholm Colonial Tartan!
Kat Moore (Lenexa, Kansas, USA) designed the tartan, working with Duncan Chisholm in Inverness, who was instrumental in getting this over the approval hurdles (Thank you Duncan!). Chief Hamish reviewed and approved the tartan at the recent gathering in Banff.
---
From Kat:
I am pleased to announce the arrival and registration of Chisholm Colonial Tartan. The category of 'Clan Tartan' is what this new design is registered as. At our Clan Gathering in Canada this past August 2008, our Chief Hamish Chisholm of Chisholm viewed the new design and approved it officially! Duncan Chisholm of Inverness, Scotland has been extremely good about having the initial cloth woven, doing all the important paperwork and other labors as well, that were required to make this project a reality.
I wanted to create a tartan that honored all those Chisholms who left Scotland to start a new life in the various 'Colonies' around the world. My original inspiration for this project came from the desire to honor my ancestor, James Chism of Virginia (1657- 1698). He was one of the many first generation American born Scots of our Clan. I am of the twelfth generation of this American-Scots line.
The colors that were chosen for the new tartan have specific significance. The following is the rationale for my color choices:
In order to begin a new life in distant lands, ocean crossings had to be made for most of our families. The blues in the tartan are representative of the oceans.
The brown color literally represents the earth of the lands that were colonized.
The Clan Chisholm badge is the Fern. The green in the tartan represents our ties to our clan and to Scotland.
The blood red in the tartan represents the blood that all Chisholms, worldwide, share by birth and heritage.
It is my fervent hope that Chisholms of all spellings and nationalities will find this tartan pleasing. I am proud to present Chisholm Colonial as my gift to Chisholms everywhere!

---
Kat was kind enough to submit the following photos: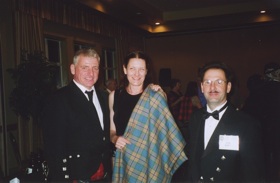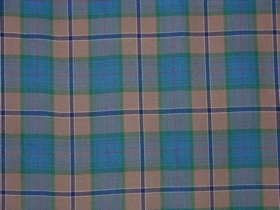 ---